DHS40 Series Heat Spy High Performance Handheld Infrared Pyrometers
DHS40 Series Heat Spy High Performance Handheld Infrared Pyrometers
The ONLY Portable Infrared on the market with models for measuring Cold Metal, Thru Flame and Burning Gas, Glass, and Thin-Film Plastics.
This model replaces the DHSA24, DHSA26, DHSA28, DHS29X, and DHS35XT Series units. Please contact us for assistance in selecting the correct model.
The NEW DHS40 High Performance Heat Spy Handheld Infrared Pyrometers are an updated and expanded line of our classic high performance Heat Spy line. This industrial infrared temperature sensor series features an accuracy of up to 0.25% of of reading and 1°C / 1°F resolution. Available in 10 different spectral ranges and temperature ranges, the DHS40 Handheld Infrared Pyrometer has the most options of any manufacturer.
The DHS40 series is available for use with Ferrous Metal (1M), Hot Metal & Hot Ceramic (2M), and Low Temperature Processes (LT) models. This is the only hand held portable infrared on the market for use with models for Cold Ferrous Metal (3M), Combustion Through Flame (MT), Burning Gas (F4), Glass > 1 mm thick (G5), Glass < 1 mm thick (G7), Thin Film Plastics (P3), and Thin Polyester Films (P7).
The case is made of cast and extruded aluminum for lightweight and rugged durability, as well as additional shielding against EMF interference originating from machinery and engines.
Both photodiode and thermopile sensors are used, depending on the spectral range and applications of each model.
DHS40 Series models and applications
Model Code
Type
Spectral Range
Temperature Span
Application
1M
Ferrous Metal
1.0μm
1112° to 5432°F (600° to 3000°C)
Ferrous Metal
Molten Glass
Molten Metal
Molten Ceramics
Hot Graphite
2M
Hot Metal & Hot Ceramic
1.6μm
752° to 4172°F (400° to 2300°C)
Hot Metals & Hot Ceramics
3M
Cold Ferrous Metal
2.4μm
302° to 2192°F (150° to 1200°C)
Cold Ferrous Metal
Iron, Steel, and Steel Alloy
MT
Thru Flame
3.9μm
1112° to 2732°F (600° to 1500°C)
Through hot furnace gases and clean
burning gas flames, indicates correct
temperatures of substances during warm up process in industrial furnaces
F4
Burning Gas
4.11 - 4.72μm
752° to 2912°F (400° to 1600˚C)
CO2 Gas (4.24 Micron) in Chimney
NO2 Gas (4.55 Micron) in Combustion
Hot CO Gas (4.66 Micron) in Combustion
Flame Temperature in Boiler / Furnace
Utility Power Station
Biomass Boilers
Furnaces
Garbage Incinerators
Hazardous Waste
Kilns
G5
Thick Glass
5.0μm
752° to 4082°F (400° to 2250°C)
Thick Glass above 1 mm thickness
Flat Glass Production
Glass Bending
Automobile Glass Assembly
G7
Thin Glass
7.9μm
104° to 1832°F (40° to 1000°C)
Thin Glass Below 1 mm thickness
Light Bulb Production
Medical Vial Production
P3
Thin Film Plastics
3.43μm
212 °to 932°F (100° to 500°C)
Plastic Thin Film (1 to 3 mm), Polyethylene
Films and all types of fluorocarbon-plastics
Polyethylene (PE)
Polypropylene (PP)
Polyamide (Nylon)
Polystyrene (PS)
Polyvinyl Chloride (PVC)
Polyurethane
Vinyl / Acrylic / Polycarbonate
Cellophane
P7
Thin Film Plastics
7.9μm
104° to 1112°F (40° to 600°C)
Plastic Thin Film, (1 to 3 mm) Polyester
Films and all types of fluorocarbon-plastics
Polyester
Cellulose Acetate
Polyurethane
Teflon (Fluoroplastic FEP)
Polyvinyl Chloride (PVC)
Acrylic / Polycarbonate
Polyamide (Nylon)
Polyester (>10 μm)
LT
Low Temperature
8 to 14μm
-40° to 1472°F (-40° to 800˚C)
Organic Materials
Baking Production
Painted Metal Surfaces
Rubber, Tires
Paper
Textiles
Thicker Plastics
The DHS40 comes in a attache style foam lined, locking carrying case. Case is watertight, dust proof, and features an auto air purge. Case dimensions: 18.1 inches x 12.9 inches x 4 inches.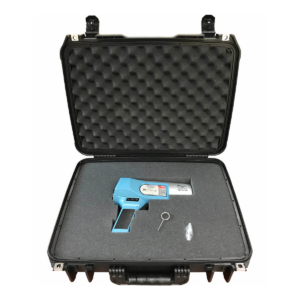 Additional information
Sensor Specifications: Ambient Temperature

0° to 50°C (32° to 122°F)

Sensor Specifications: Storage

-20° to 70°C (-4° to 158°F)

Sensor Specifications: Relative Humidity

10% to 95% non-condensing

Housing Material

Cast and Extruded Aluminum

Housing Dimensions

13 inches x 6 inches x 15.5 inches
330.2 mm x 152.4 mm x 393.7mm

Weight

2.2 lbs (0.99 kg)

LCD

128 x 64 dot

Keypad

4 Key: Menu, Up, Down, and Enter

Alarm

High or Low

Signal Processing

Max, Min, Average, Delta T

Power

9V Alkaline Battery

Battery Life

Approximately 30 hours

Accuracy

± 0.25% of reading or ± 1°C
or
± 0.6% of reading or ± 1°C depending on model

Repeatability

± 0.10% of reading or ± 0.30% of reading depending on model

LCD Resolution

1°F / 1°C

Response Time

5 mS, 150 mS, or 750 mS, depending on model

Adjustable Emissivity

Adjustable between 0.10 and 1.00

Trigger Lock

Yes

LCD Backlight

Yes

Laser Sighting

Available on models 1M, 2M, 3M, MT, G5, P7, G7. and LT

Storage Temperature

-4° to 158°F (-20° to 70°C)